Andros Greece Island is the northernmost of the Greek Cyclades Islands. It is located in the southeast to Euboea and Northern to Tinos Islands respectively. With a surface area of about 640 Sq.Km., it can be referred to as a mountainous Island with its valleys filled with waters and different fruit plants. Gavrio, Ormos Korthiou, and Batsi are the three largest towns in Andros Greece.
Among the many ways to enjoy any visit to Andros Island Greece is to go on hiking tours to the various parts of the island. With several hiking trails that let you savor nature and still let you see the Islands natural beauty while enjoying the fresh air and familiarizing with the Island's people and their way of life.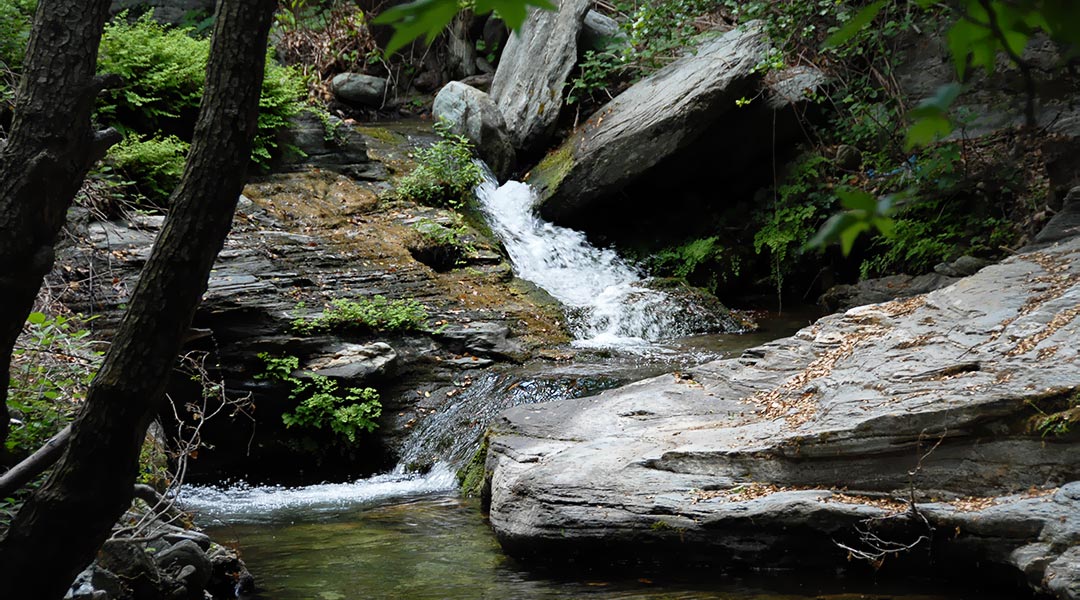 Hiking in Andros Greece is an activity which is full of excitement. The trails which pass through different architectural edifices and landscapes afford hikers the opportunity to walk across waterfalls, springs, rivers, and streams. Being a mountainous Island, coming across rugged mountains, gorges and valleys which line the trails is an inescapable occurrence. The huge network of trails takes you through the Island's port, settlements, and places of worship.
Hiking in Andros Greece is an occasion to see and record watermills, windmills, religious chapels, and agricultural architectures such as threshing floors. We will be discussing Andros Greece Hiking tours and trails you should look forward to on your next visit.
The entire Andros Greece Island boasts of over 25 hiking trails of various difficulty which totals about 300Km. These can all be combined in varying lengths and directions. However, of all these possible combinations, some of the most important are:
Chora to Moni Panachrantou through Ipsilou – Lamyra – Menites – Messaria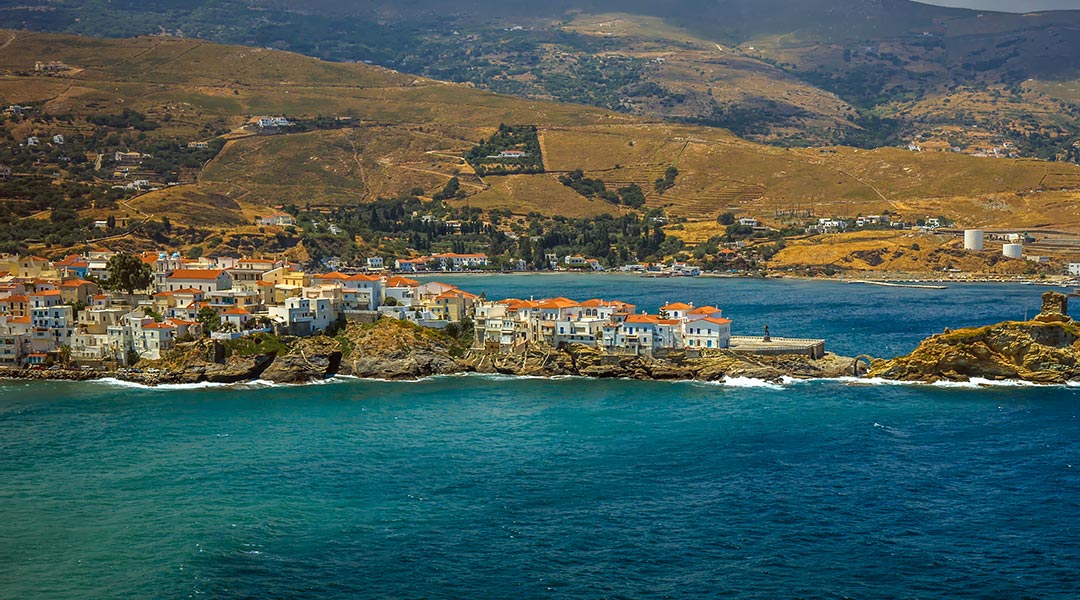 Hiking in Andros Greece through this trail route will let you have a wonderful view of the large valleys above Chora and the town of Chora itself. At the village of Menites situated about 6 kilometers from the capital of Chora, you can visit the beautiful springs of Menites famous for the abundance of greenery. Then from Messaria, the trail to the monastery passes through footpaths, and you can stop by at the monastery before returning to Chora.
Ano Aprovatou to Chora through Pitrofos – Strapouries – Lamyra
This is the easiest trail for hiking in Andros Greece. It takes you from Ano Aprovatou through Pitrofos to Strapouries which is where the official hiking trail stops as indicated by the trail marker. You get the opportunity to view the coast near Paleopolis on your way to Pitrofos. The entire length of the hike is cut in between by a paved gravel trail which is a little above twenty minutes hiking time. Much of the old trail which consists of Kalderimia are still well preserved though.
Chora to Korthi through Sineti – Dipotamata-valley – Kochilou
Hiking in Andros Greece through this trail is an experience which should not be skipped. The trail which runs from Chora to Dipotamata valley through Sineti is pleasing to the eye. You will find water mills remainders in this valley. If you have the time and energy, you should take a detour to see the summit of Apano Kastro before proceeding to Kochilou where you can take a swim at the Ormos Korthiou Beach.
Agios Nikolaos to Achla (back and forth)
Hiking from Agios Nikolaos Monastery to Achla Beach will take you through a mix of fogs and winds. If you set out early, you will reach the beach right about when the clouds will disappear, and the sun will be revealed. If you are daring enough, you can dive into the Achla Beave waves or rather explore the Achla River. On your way back, you should cut down the vegetations, so you can see the ancient walls and have a go at rebuilding it by returning falling stones to their place.
Vourkoti to Agii Saranta through Profitis Ilias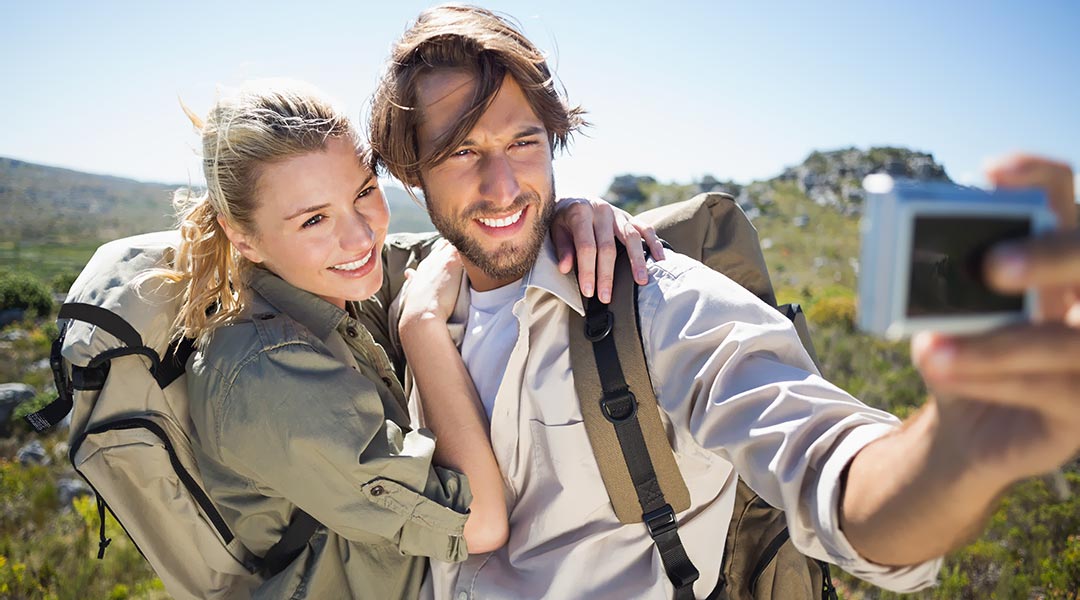 Hiking through this trail lets you start at an altitude above 600 meters, that is, above the Vourkoti deserted village. The entire hiking trail length runs over the hill ridges ofm Kouvara and Goraki at an average height of 850 metres. You then get to pass through Profítis Ilías, which is the highest summit of Andros (997 m), before continuing for 3 Kilometres more to your final destination, Agii Saranta. It is a fairly easy trail and also allows you to see a panoramic view of the entire Island.
When you go hiking in Andros Greece through any of this tour, you need a relaxing place to stay. This is because hiking on Greek Islands, Andros inclusive, is a tasking and energy draining adventure. This is why there are Andros hotels capable of letting you forget the stress of hiking leaving behind only the memories.