When it comes to religious pilgrimages to the Cyclades, some might think of Patmos, where St. John the theologian stayed during his exile and received his revelation. But possibly an even more ideal spot is Andros island, Greece which contains four carefully preserved monasteries of important historic and religious significance. Here you can find valuable icons, architecture and artwork that dates back centuries, some even over a millennia. Whether it's a spiritual or historical experience you seek, these monasteries are a must-see.
Agia Marina
This monastery is dedicated to the martyr Marina of Antioch, later sainted and given patronage over childbirth and pregnant women, dying people, the falsely accused, peasants, and exiles — just to name a few. The monastery, however, was built in 1325 AD, when an elderly monk was blessed with a miraculous appearance of Saint Marina herself, telling him the location of her icon hidden in a rock.
In the 16th century, the monastery fell into hard times. It was attacked by pirates and burned three times. Over time, it became a female convent, a barn, and was finally restored in 1975, with the icon returning to the monastery in 1976. It gained fame for the miraculous healing of a child from Cyprus and is still going strong today, one of the more recent monasteries on Andros island due to the renovations. They celebrate every July 17.
Agios Nikolaos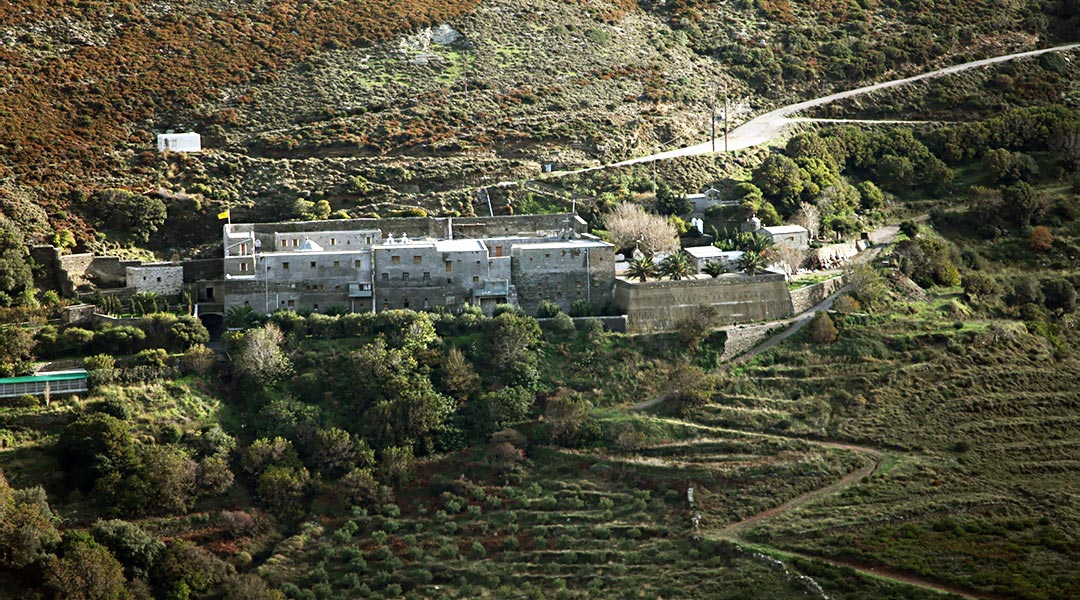 The monastery of Agios Nikolaos is another monastery that underwent a facelift over the years. It was first built in the 11th century and repaired in 1760. It has local historical significance because of its position in a remote hillside of Andros Island Greece. It has served as not only a monastery but a base for The Friendship Society of the Cyclades, a printing and bookbinding operation and a secret school during the revolution against the Turks that occurred in Andros island, Greece in 1921.
It's also, of course, full of religious significance. It protects the holy icon of The Virgin Mary Myrovlitisa as well as a silver sewn icon of Saint Nicholas, from which the monastery receives its name. They also house a number of holy bones, including those of Saint Nicholas, the jaw of Saint Kosmos of Aitolia, the thigh of Jacob of Persia, and part of the head of Saint Joseph of Arimathea. There are many chapels within this monastery, which solidifies its position as the must see destination for religious pilgrimages to Andros, Greece.
Panachrantou
The Panachrantou Monastery in Andros is built into the side of Mount Gerakones, surrounded by caves that formed over the centuries. Many monks actually inhabited these caves for a time as a matter of hermitage. The perch of this monastery itself is a wonder. From this high a point, you can look at panoramic views of Andros island and the sea nearby — maybe even your own Andros hotel, depending on where you stay. It is, after all, located close to Chora, the capital of Andros island, Greece. The exterior view is tremendous, but don't forget about all that waits inside.
The monastery is still in operation today and has feast days on July 27 and August 15. It was built in 960 AD, but remains in terrific shape, retaining much of its traditional character even with modern advances of electrical lighting. There are two items of significance here: the first is the icon of the Virgin Mary, believed to have been made by the Saint Luke himself. It was discovered by two monks who noticed a light coming from one of the caves, and eventually determined a monastery should be built. The second is the skull of Saint Panteleimon, which is why this monastery is sometimes called the Monastery of Saint Panteleimon. Both draw visitors and pilgrims from all over to this very monastery in Andros, Greece.
Zoodochos Pigi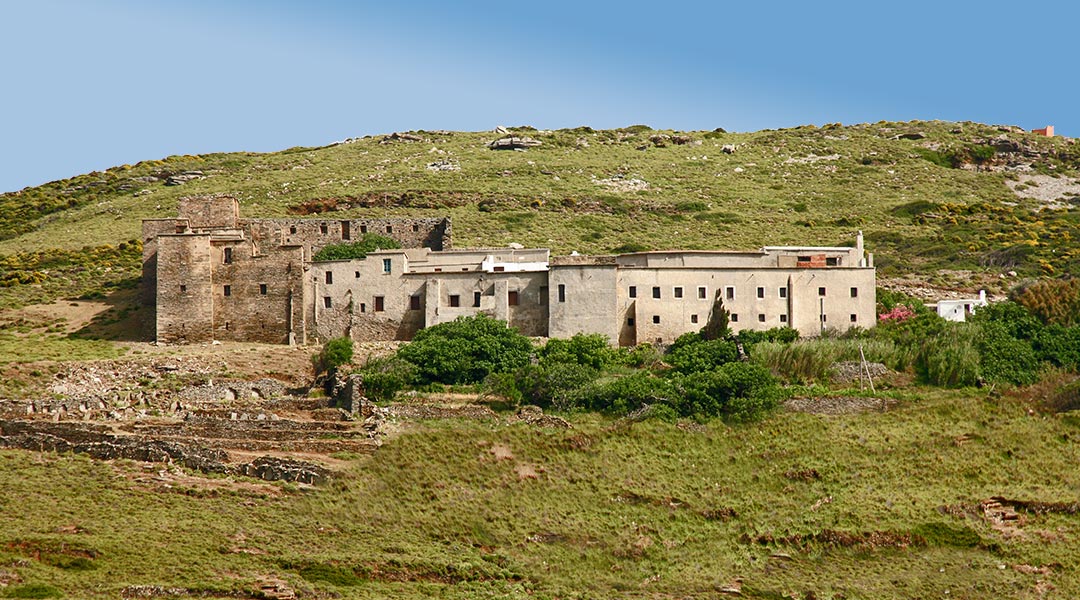 Little is known about the age of the Monastery of Zoodochos Pigi. The first written record of it is from 1400, but some of the icons housed in this monastery date back to the 1300s. It is generally held that this monastery had a past life as a Byzantine school before it was turned into a monastery sometime in the middle ages. Thus it makes sense that among the vestments and icons housed here, there is also a library full of rare, historic books and manuscripts. It has gone through many renovations and repairs over the years. Finally, in 1928, it was made into an all-female monastery and thus it has remained.
The name of this monastery means "miraculous spring" or "life-giving spring." It is so named for the story of its origin, in which a resident of the area's vision was healed by a hidden spring which was indicated to him by the Virgin Mary. At the time, a monastery was in progress north of the area, but when the man's vision was cleared, he told the builders to move their location to the location of the spring, and so it has remained. Today, it stands along the way between Gavrio and Batsi.
Whether you're religious or not, any of these monasteries are an awe-inspiring sight and they speak to the history of Andros island, Greece. It's just one more reason to search for Andros hotels and include Andros island, Greece in your Cyclades holiday itinerary.